5 ways to get PPC and SEO working together
If your SEO (search engine optimization) and PPC (pay-per-click) teams exist separately from each other, then it's time to change that. There are usually opposing points of view: PPC advertising is too complicated, and SEO is too slow.
But if you get these two parts of your marketing agency to work together, you'll be rewarded with incredible ideas, knowledge and results that neither team could achieve alone. These teams should not exist in isolation, and their collaboration is one of the most underrated ways to improve the overall effectiveness of digital marketing.
What is the difference between PPC and SEO strategies? At its core, SEO strategy is all about optimizing content to rank better on Google search engine results pages and provide a better user experience. The higher the overall rating of your content, the more likely users are to be interested in it and click on it. Pay-per-click, on the other hand, is all about driving traffic to the right page quickly by writing a compelling ad copy. It takes time and effort to rank #1 on Google alone for SEO team or PPC.
Here is an example of SEO in action
The image below appears at the top of the Google Organic Search Engine (SERP) results page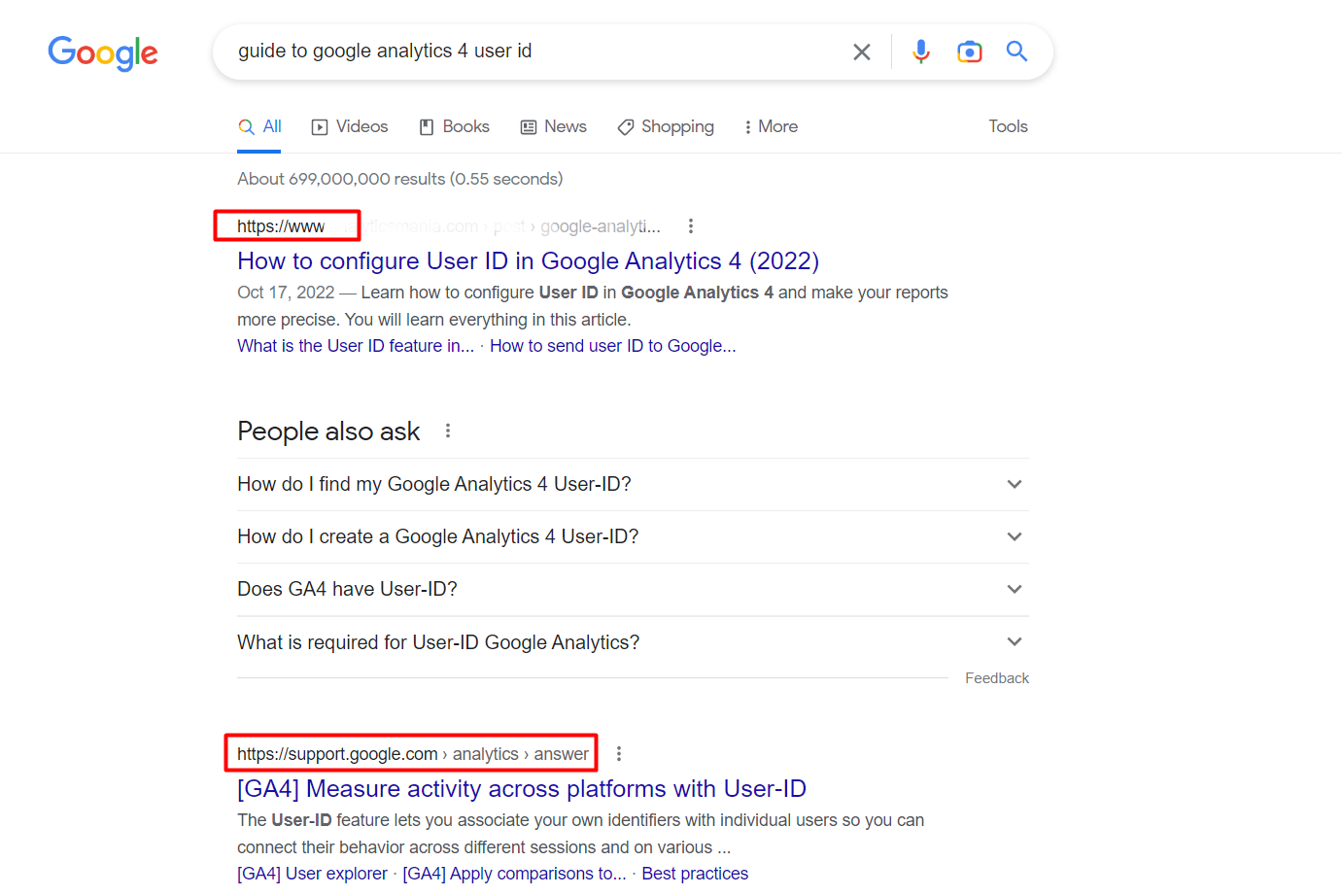 The key difference between the two industries is that organic listing clicks are free, while PPC clicks cost money. When these two tactics work together, companies see better results, dominate search results, and increase ROI.
How do PPC ads and SEO strategy work together? Here are five ways of combining SEO and PPC strategies:
Tip 1: Collaborate on first-party data readiness
You need to understand that what suits your brand needs the input of both SEO tactics and PPC team.
First-party data is important because it comes directly from your own audience. There is no third-party collecting or preventing data collection; it's just you and your potencial clients.
Having this information also makes it easier for you to retarget and develop your audience based on what you've learned about them. This helps you make informed decisions and make changes to your business processes or products based on the preferences of your audience.
First-party data is used for retargeting through PPC ads and in the sales process. They are also used to find out what the ideal or most suitable client looks like, giving you more insight into how to reach new audiences. For reference, whenever you've browsed a product online and then kept seeing PPC ads for the product, retargeting your own datais what did this trick.
You need to collaborate with your SEO team content campaigns to make sure there are compelling hooks to create consistent conversations. Also, if you are truly dedicated to streamlining your data gathering, you might find this linkuseful.
Tip 2: Acknowledge and adapt based on domain structure choices
There are three ways to set up brand URLs:
One domain for everything (including international).
Subdomains for various initiatives.
Vanity domains and country domains.
Regardless of which path you choose, PPC pages must be indexed and allow Google to access them so they can contribute to your Quality Score.
It's rare that non-e-commerce brands will be better served if everything is stored in one domain. This is because there are strategic elements of a well-built SEO site that can conflict with PPC:
SEO doesn't want to duplicate content, while PPC ads get benefits from testing different templates.
SEO has a solid navigation bar while PPC ads work better with a limited choice of user actions.
SEO may need to redirect the page, which will cause the PPC ad to be disapproved
These pitfalls are easily eliminated by having subdomains that can still benefit the main domain without forcing compromises between the SEO and PPC teams.
In addition, a subdomain will allow you to maintain the same analytics properties and brand integrity. If you're using the same landing page for PPC ad and organic search traffic, make sure any redirects are reported at least three to five days in advance. This will give the PPC specialists time to adjust the search ads so you don't waste money sending traffic to a broken page until Google rejects the ad.
Inventory transfer is also very important for both PPC and SEO.
If your item is consistently out of stock, search engines will eventually penalize it. Make sure all campaigns are aware of inventory issues so they can exclude products from paid campaigns and also apply the out-of-stock scheme to the organic page.
Tip 3: Bring transactional intent & CRO to all pages
SEO is often referred to as a "research" channel, while PPC is often solely responsible for transactions. But this is far from being the case, although there are indeed good reasons to think so. But now it's not about that.
For example, despite the fact that PPC pages contain less content, they still need the presence of information to understand the product/service. This content (text, photo or video format) should be at the bottom of the page so that the path to conversion remains open.
Likewise, SEO requires unique and authoritative content to rank well. But if there are no conversion paths, there will be absolutely no organic traffic.
As ironic as it may sound, the SEO version of the page has clearer conversion paths. If you're going to take the time to build a PPC page, make sure it follows the PPC "rules". This page should give the user enough information to understand what they are getting into, as well as clear paths to conversion.
Tip 4: Use search query reports to inform campaigns
One of the best ways to make PPC and SEO work together and improve your overall experience of Google Ads management is to share search query data.
You're already paying for search ads from Google Ads. Sharing this data, as well as information about what converts and what doesn't, will help relevant teams know where the most money can be found. Understanding what potential customers want and how they think will help you prioritize relevant keyword variations.
Since Google is the most popular search engine, using Google Ads search query reporting to improve your SEO and PPC campaigns will provide the most bang for your buck.
The Search Terms Report is more than just a list of keywords. This is a list of search terms used by a significant number of people that results in your ad being shown. Depending on how you set up keyword matching, the keyword list match will vary.
This report will show you what your customers were actually looking for when they came across your ad. This way, you will get an idea of ​​how your customers are performing searches, and you can build a strategy based on this information. You can even use them to generate ideas for the new most relevant keywords.
The search terms report is a necessary part of any PPC and SEO campaigns. This will help focus the campaign, ensuring that you are spending money efficiently and targeting the right people. Both teams need to share search query data so that brands can get an idea of ​​content viability and auction prices.
Set up automatic reporting at least once every three months so that all digital channels communicate with each other.
And on the contrary, you can use reports from Google Search Console for your PPC campaigns. It provides a wealth of insights that help in boosting organic or paid campaigns. Not only that, but it is also an easy tool to operate and understand.
For SEO resources, this tool is very beneficial as it helps in website optimization. You can monitor traffic on your web page result and check what organic search results are helping in gaining traffic. It is important to do proper keyword research to rank your website.
When it comes to PPC, the Search Console can be of great use to fish out keyword ideas. Sifting through the Search Query Report on the Console can provide a wealth of information when it comes to keyword ideas. Not only can you use Google Ads Keyword Planner Tool for keyword research, but also to get an idea of which performing words will be helpful in the selection of keywords. A PPC specialist who creates or manages a PPC campaigns can get tons of keywords ideas for their clients using the Console.
So, it helps in both PPC marketing as well as SEO tools as it maintains a smooth flow of research and generates feedback if the website is not running smoothly. In the case of SEO, it helps to optimize the website by suggesting relevant keywords to it.
It also helps the PPC as it is helping in campaign budget optimization to select effective keywords for the paid ads and make sure that they are investing right.
Tip 5: Find time to talk to each other
It may seem like a trite and unnecessary suggestion, but personal communication with your partner is a great benefit.
It may be a 10-minute call at the start of each week or a monthly collaborative session, but the time spent discussing results, metrics, and issues in each area ensure that your partner can be poised for improvement.
Demonstrating your commitment to brand success and quality collaboration will help retain customers and ensure that your great work is not lost.
PPC and SEO don't need to be at odds
First, both strategies aim to drive traffic to the site and also often aim to generate conversions. But their ultimate goal remains the same.
Second, PPC and SEO strategies are keyword based. While advertisers will be doing keyword research to identify successful bidding phrases and irrelevant ones to eliminate from negative keyword lists, SEOs will also analyze relevant terms to understand how to optimize titles, content, technical elements and other important aspects of the site.
With the similarities between the two strategies out of the way, let's look at how SEO and PPC combined is the formula for search engine success.
Pay Per Click Helps SEO Efforts:
Maximum coverage of search results
Symbiosis of keywords. Using keyword information from PPC campaigns can help SEOs understand the types of terms users are looking for to open company pages. Instead of waiting for SEO data to start coming in, marketers can use PPC data to make the necessary adjustments to SEO strategy.
Increased brand awareness.
Based on what we have said above, organic and paid search can work together to increase productivity and profitability. SEO and PPC have a lot in common, mainly in that they each work towards achieving business goals.
Since these two tactics are inextricably linked, it is imperative that business owners learn how to pass information back and forth between their SEO and PPC as this is the real secret to dominating the competition in the SERPs.
Now that you know how to organize drawing in clients, the next logical step is learning how to keep them coming back for more. Check out this article and find the most comprehensive guide to remarketing you'll ever need.